House for Dogmanity:

A Non-Profit 501(c)(3) Restore - Thrift Store

for dogs and their owners.
In this ever evolving world and society goods are needed for the care and the proper upbringing of even the family pet. Our pets are part of our family unit and must be cared for properly. We find at time that items that are needed to help with the behavior and the upbringing of puppies can be very challenging on a family budget, so we have developed a Restore - Thrift Storefor Dogs. Like children, puppies outgrow various items needed: collars, crates, beds, and when they get older they need senior items such as; stairs. Orthopedic beds, slings, carts. The House provides these goods at an affordable price. Most of the goods are donated, in very good condition, some new or slightly used, they are then sold to the general public at reduced rates and all the proceeds will be donated to shelters and pet rescues of the Hudson Valley.The House for Dogmanity is run by volunteers of the dog world. We all find a way to give from our dogs to your dogs.
Everyone should be able to afford a pet!!!!
What Is The House for Dogmanity Restore - Thrift Store?
The Restore - Thrift Store is a discount pet store that sells donated materials at reduced prices to the general public. 100% of the profits support the dog shelters and dog rescues of the Hudson Valley.
The mission of the Pet Restore - Thrift Store:
To keep usable pet products, and recycle them in our community.
To provide new and slightly used pet products at affordable prices to everyone.
To generate additional funds much needed in supporting working dog shelters and dog rescues of the Hudson Valley.
What types of things can I donate?
We need the following: dog dishes, crates, apparel, collars, leashes, training aids, books, beds, dog related products.
Where is the Restore - Thrift Store located?
Located at 385 Foxhall Avenue in The Doc's K9 Center.

Events
Every year The House for Dogmanity hosts a Shop & Adopt Event in November.
This is a major fund raising event featuring vendors with various dog and human crafts, The House has wonderful sidewalk sales, we have rescues & shelters with adoptable puppies and dogs, fabulous food truck. Exquisite raffles. All proceeds going towards shelters and rescues of the Hudson Valley.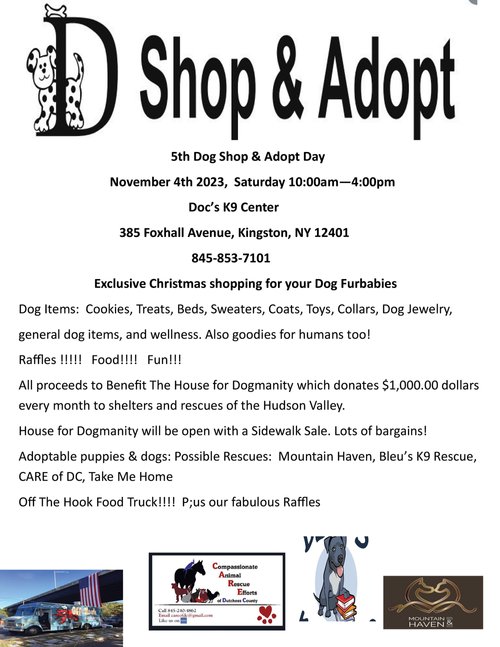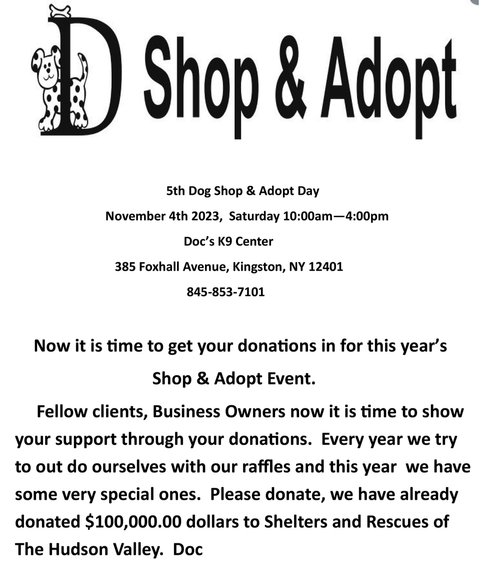 Monetary Donation Recipients
Your donated items can be turned into monetary funds needed to run Shelters and rescues.
| | | | |
| --- | --- | --- | --- |
| Animal Rescue Foundation | Best Friends | Compassionate Animal Rescue Efforts of Dutchess County | Crate Escape, Inc. |
| Columbia-Greene Humane Society/SPCA | Dutchess County SPCA | Hudson Valley Animal Rescue and Sanctuary | International Animal Rescue |
| Jack Russell Refuge | BLEU's K9 Rescue | Mountain Haven Animal Rescue | Mid-Hudson Bloodhounds |
| The Mr. Mo Project | Out Of The Pits | Pets Alive | PAWS Unlimited |
| Save A Lab Rescue | Saugerties Animal Shelter | Take Me Home Pet Rescue | Ulster County Canines |
| Ulster County SPCA | | | |
Recipients - Thank You's
WOW !!! Thanks so much for your unexpected and much appreciated $1,000.00 gift to ARF. We are so grateful for your generosity, be assured all of your gift will go to the health and core of our animals. We know we are not alone.
Joan Cornett VP - Animal Rescue Foundation ARF
I would like to extend my personal thanks and that of Paws Unlimited for your generous donation of $1,000.00 to Paws Unlimited Foundation, Inc. The money donated to paws will be used for medical care for the growing population of senior dogs here at the shelter.
Shari Bach, Founder/President Paws Unlimited Foundation
Dear Friends at House for Dogmanity
I just wanted to take a moment to thank you personally for the generous donation of $1,000.00 you recently gave to benefit the homeless and needy animals of the Columbia- Greene Society/ SPCA.
Thank you
Ron Perez Jr. President
Dear Dr. Karen,

You and House for Dogmanity have been so generous in supporting Have A Heart. Your generous donation helps many of the neglected, abused and homeless dogs in our community.

The $1000 donation will take care of much needed medical care for the dogs in out County pounds plus those whose families cannot afford spay/neuter services and other necessary needs.

We thank you from the bottom of our hearts for your support and generosity.
Sincerely,


Merle Borenstein , Jill Shufeldt and all the four paws

Have A Heart Animal Welfare Fund, Inc. is so very grateful for the generous donation you raised through House for Dogmanity. This was such a gracious and unexpected gift.
Thank you, Merle Borenstein
We have been overwhelmed by your generosity to our Jack Russell refuge since our tragic fire in December. All donations have been put to good use and we are in the process of putting the final touches on our new kennel.
Kindly thank those who donated thru your efforts and keep up the good work with your charity sales at your Kingston facility.
With heartfelt thanks,
Dale Mountan
Russell Refuge Inc
The Ulster County SPCA would like to thank Dr. Karen Garelick and The House for Dogmanity for the generous donation of $1,000. This money will help the county's abandoned, abused and homeless dogs that we rescue, care for, and adopt out to new homes. The House for Dogmanity is a novel idea that will enrich the lives of many shelter animals in our area while helping people in the community purchase dog items at a discount. Thanks again to Dr. Karen! Best wishes on the continued success of your super store!!

Jill Schintone
Executive Board Member
Dear House for Dogmanity,
Thank you so much for your generous donation of a $1000 to the town of Saugerties Animal Shelter.. That money will go a long way to keep our animals safe and healthy.. You are the best!!!!
Elly Monfett
Shelter Manager
On behalf of the animals, the staff, and the Board of Directors of the Dutchess County SPCA, I would like to thank you for your donation of $1,000.00 from House for Dogmanity Inc. We are extremely grateful for your support.
Your gift will allow us to continue to serve the hundreds of homeless, abandoned and abused animals that enter our shelter each year and support the numerous programs that we offer to the residents of Dutchess County. Such services include our Low-Cost Medical and Spay / Neuter Clinics, our Humane Education Programming, our Humane Law Enforcement Officers, and our Emergency Pet Food Pantry.
Thank you so much for supporting the DCSPCA and for caring about the animals.

Sincerely,
Jackie Rose, J.D., M.S.
Executive Director
Our Success
Success is measured by giving.
Recycling
Restoring
Reusing
This helps not only people, but the environment and your dogs. When we purchase something that is lightly used for 50% or more of what they would cost in a store is a great savings, this savings can be used for obedience classes, food, or vet bills.